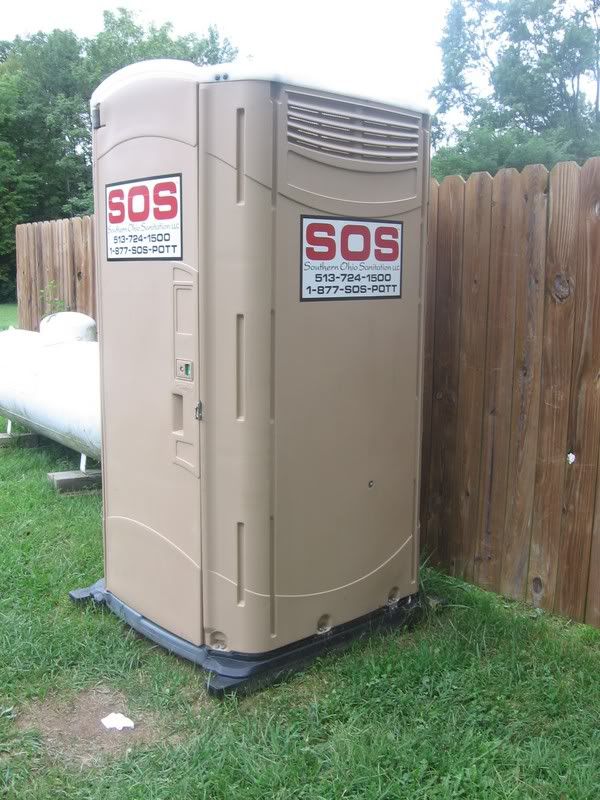 I'm training for the MS 150 bike ride from Houston to Austin. I've decided it will be a bonding experience for my husband and I. He has done it twice already, while I stood on the side-lines and cheered him on. This time I want to take part. I think it will make us stronger as a couple. We will face the challenges of the ride together and our love will blossom even more. That and I want the darn t-shirt that tells the world I did it!
I am completely unfazed that I haven't really ridden a bike in 12 years. Doesn't matter that I don't even have a road bike yet to ride on. I'm not sure I can ride a mile, much less 150 miles. I'm pretty sure I am very out of shape, no I know, I am out of shape. The fact that I will have to "clip in" (bike shoes that clip onto your pedal) scares me to death. All of that I can overcome, if I set my mind to it. But that dang porta potty, that coffin of human waste, I'm not sure I can overcome that.
I have anxiety about small spaces. Not a phobia, so much as a strong dislike. Porta potties are small, usually hot and dark, which exasperates the problem. I'm also a very visual person. I see an image and it pastes itself into my minds eye forever. So as I hover over the hole of other peoples sewage, people I don't even know, I invariably get a view I'd care never to see. That picture is now forever in my head and will pop up at the most inopportune times, like when I'm sitting down to eat a filet mignon with creamy mashed potatoes and some chocolate cake for dessert. You get the idea, right?
Not to mention the smell. Why would anyone willingly walk into a hot shoebox of a space that smells like the feed lots of Dalhart, Texas. At least the feed lots are the "smell of money", porta potties do not have such a distinction. They just stink and they make me gag. It doesn't help that for us females our anatomy requires us to spend more intimate time with the porta potty, no quickies there. And one last thing. Why on earth would you design a toilet in such a small space where the urinal is right at nose level with the actual toilet space? Do I have to look at that while I'm trying my hardest not throw up as it is?
I'll be making sure I drink lots and lots of fluids so I don't get dehydrated and fall off my bike. And we all know what happens when we drink lots of fluids. So for every training ride leading up to the 150 mile ride and for the ride itself the only choice I will have for a bathroom break will be the porta potty. I won't be able to just hold it or wait for a big tree to squat behind. I will have to face the dreaded porta potty. And honestly, for 38 years I have avoided all events that required me to use a porta potty and so this is huge. This is how much I love my husband. I love him so much that I will face my nemesis. I will stare down the porta potty and I will survive. All in the name of love.
Have you done something amazing for love? But more importantly, can you use a porta potty without gagging? Because if you can I'd like some tips on how to do it.